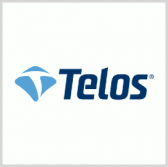 Telos' identity management solutions  business will provide subcontractor support to IndraSoft as part of the latter's $64 million contract to provide identity verification, fingerprinting and photograph services for the U.S. Census Bureau.
Telos said Wednesday the services will be in support of the bureau's recruitment of over 500,000 workers across the U.S.
Indrasoft received the prime contract in January for assistance on the bureau"™s 2018 End-to-End Census Test and 2020 Decennial Census operations across the mainland U.S., Alaska, Hawaii, Puerto Rico and U.S. territories.
Mark Griffin, president and general manager at Telos ID, said the company will work to extend the 2020 census' nationwide network of fingerprint enrollment sites.
The 2020 Decennial Census will help determine the distribution of federal funds across states and local governments, among others.