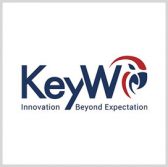 The Department of the Navy has awarded KeyW a potential five-year, $43.7 million contract to help the Naval Research Laboratory's Physical Acoustics Branch develop sea acoustic techniques.
DON announced the contract award in a notice posted Wednesday on the Federal Business Opportunities website.
Work covers the development of modeling algorithms and computational tools to support the creation of structural acoustics sonar prototypes, according to a FedBizOpps summary.
Under the contract, KeyW will aim to build a sonar technology for counter-unmanned underwater vehicle anti-submarine warfare, mine countermeasures missions.
The company will also produce signal processing and classification tools for the sonar.