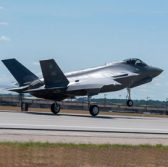 Raytheon has been chosen to develop a sensor technology for F-35 pilots to obtain situational awareness and detect threats in battlespace.
Lockheed Martin said Wednesday it picked Raytheon after a competitive process for the development of the Distributed Aperture System starting with the fighter program's lot 15.
Greg Ulmer, vice president and general manager of the F-35 program at Lockheed, said the company conducted the DAS supply chain competition as part of efforts to address cost and performance goals.
DAS is designed to gather and transmit imagery from six infrared cameras installed on the aircraft to a helmet that works to help pilots see the surrounding area.
Roy Azevedo, vice president of intelligence, surveillance and reconnaissance systems at Raytheon's space and airborne systems business, said the company aims to help F-35 pilots maintain a tactical advantage with technology.
Raytheon aims to begin delivery of DAS technology to Lockheed in 2023.