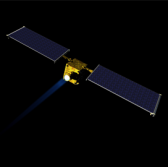 NASA has given Johns Hopkins University Applied Physics Laboratory the go-ahead to start the preliminary design phase of an asteroid deflection mission.
The Double Asteroid Redirection Test seeks to shift the orbit of an asteroid within the Didymos asteroid binary system to demonstrate a technique that could protect Earth from a potential asteroid strike, APL said Friday.
"DART would be NASA's first mission to demonstrate what's known as the kinetic impactor technique "" striking the asteroid to shift its orbit "" to defend against a potential future asteroid impact," said Lindley Johnson, planetary defense officer at NASA's headquarters.
The Didymos system is comprised of two bodies, namely the 2559-feet Didymos A and the 530-feet Didymos B, which will make a distant approach to Earth in October 2022 and in 2024.
DART would fly to Didymos, aim itself at Didymos B using an APL-built autonomous targeting system then strike the smaller asteroid at a speed of approximately 3.7 miles per second.
Scientist would use Earth-based observatories to assess the effect of the kinetic impactor technique on the orbit of Didymos B and determine whether the approach can be used an asteroid deflection strategy.
DART is managed and will be built by APL while the Planetary Missions Program Office at Marshall Space Flight Center will be in charge of project oversight.