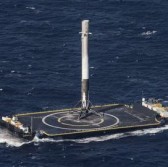 SpaceX's Dragon spacecraft has splashed down in the Pacific Ocean approximately 260 miles southwest of the California coast after it completed a cargo resupply mission to the International Space Station, Space.com reported Monday.
The reused cargo spacecraft launched June 3 aboard a Falcon 9 rocket and returned from its flight to ISS on Monday at 8:14 a.m. Eastern time.
NASA said Saturday it expects to recover more than 4,100 pounds of equipment, technology and scientific studies from CRS-11, including the Fruit Fly Lab-02  and Systemic Therapy of NELL-1 experiments.
Fruit Fly Lab-02 aims to study the impact of prolonged exposure to microgravity on the heart as well as the effects of spaceflight on the cardiovascular system, while Systemic Therapy of NELL-1 seeks to test a new drug designed to rebuild bone structures and prevent bone loss.
SpaceX personnel will transport the recovered module to the company's test facility in McGregor, Texas, for final processing.