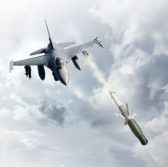 Lockheed Martin has received a $1.9 million contract from Poland-based distribution services provider Megmar Logistics and Consulting for the production of laser-guided training rounds for that country's military.
Lockheed said Thursday the contract for Enhanced Laser Guided Training Rounds represents Poland's first ELGTR procurement under the F-16 Block 52+ laser-guided bomb training program.
"We have identified ELGTR as the best option for the Polish Air Force and are very excited to enhance our warfighters' capabilities again," said Mariusz Maslarz, Megmar Logistics and Consulting president and CEO.
Joe Serra, director of Precision Guided Systems at Lockheed's missiles and fire control business, said the ELGTR units will offer aircrews with a live-fire training system than can help preserve the MoD's tactical laser-guided bomb inventory.
The contract also covers technical data, logistics support and introduction to service training to Poland's air force, Lockheed noted.