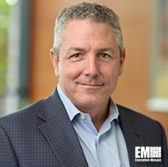 TYSONS CORNER, VA, June 21, 2019 — Bill Weber, president and CEO of KeyW (Nasdaq: KEYW), has said he believes the U.S. needs to push collaboration between the public and private sectors to innovate and invest in emerging technologies in order to maintain its leadership position against adversaries.
"There needs to be companies that can innovate alongside our government at a very fast pace and willingly share information and capabilities to allow the government to successfully do its job more effectively," he told GovCon Wire in an interview published June 11.
The intelligence community, in particular, needs to "reinvent" their tactics and strategies using nontraditional methods, and in a pace faster than the way adversaries could potentially exploit their knowledge of the same platforms that are used in the U.S., Weber added.
About Executive Mosaic: Founded in 2002, Executive Mosaic is a leadership organization and media company. It provides its members an opportunity to learn from peer business executives and government thought leaders while providing an interactive forum to develop key business and partnering relationships. Executive Mosaic offers highly coveted executive events, breaking business news on the Government Contracting industry, and delivers robust and reliable content through seven influential websites and four consequential E-newswires. Executive Mosaic is headquartered in Tysons Corner, VA. www.executivemosaic.com