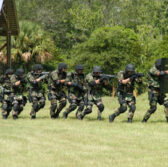 A Rheinmetall subsidiary has secured $6.8 million in orders from the U.S. Navy and U.S. Marine Corps for infantry ammunition and special effects ordnance products.
The company said Wednesday its Camden, Arkansas-based American Rheinmetall Munitions subsidiary will produce 40mm x 46 practice cartridges for Marines under a $3 million order.
ARM will also provide MK 24 MOD 0 flash-bang grenades to the Marine this year through a $3.8 million delivery order.
Production of the grenades will occur at Rheinmetall's facility in Trittau, Germany.
The German company manufactures 40mm ammunition, weapons and fire control systems for armed forces and law enforcement agencies worldwide.