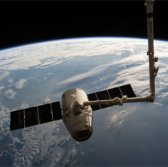 NASA expects the next resupply service mission of a SpaceX-built cargo spacecraft to the International Space Station will launch no earlier than April.
Dragon will lift atop Falcon 9 rocket from Cape Canaveral, Florida, as part of SpaceX's 14th mission to deliver supplies and experiments for the space agency under the Commercial Resupply Services contract, NASA said Thursday.
The spacecraft will carry research projects that aim to examine the effects of thunderstorms on Earth's atmosphere; the impact of gravity insufficiency on metal powder production processes; and food growth and vegetation in space.
NASA added that Dragon will transport two platforms built to facilitate studies of coatings, materials and components in space environments as well as drug effectiveness and safety assessments.