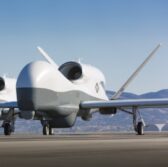 Germany plans to buy three Northrop Grumman-built Triton unmanned aerial vehicles from the U.S. Navy for use in signal intelligence operations of its armed forces, Defense News reported Wednesday.
The inspector general with Germany"™s armed forces Bundeswehr said the country"™s military aims to procure the first Triton UAV in 2025 and the other two drones by 2026, Lars Hoffmann wrote.
The report said the drones will feature the Hensoldt-made Isis, a SIGINT platform designed to intercept enemy communications and detect hostile aerial radar at a high altitude.
A spokesman for Germany"™s defense ministry noted that the German federal aviation administration will be given access to results and documents related to the drone"™s U.S. approval process, the report added.