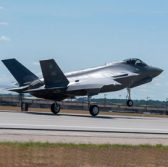 IBC Advanced Alloys has received a $2.6 million contract from Lockheed Martin to manufacture a beryllium-aluminum alloy component for a targeting system used on F-35  aircraft.
IBC said Thursday it will produce azimuth gimbal housing units for the F-35's Electro-Optical Targeting System using the Beralcast beryllium-aluminum precision cast alloy.
Lockheed made the order as part of its F-35 lot 11 low-rate initial production contract with the Defense Department.
The company was awarded a $1.2 billion advance acquisition contract by the U.S. Navy in late 2015 to obtain long-lead materials, components and other parts needed to build the eleventh batch of fighter jets.
IBC noted it will supply near-net-shape castings of the EOTS housing directly to Lockheed, which plans to award a separate contract for the material's finishing and final machining.