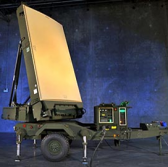 Northrop Grumman and the U.S. Marine Corps have tested the AN/TPS-80 ground/air task-oriented radar system's capacity to detect and track various types of rocket, artillery and mortar rounds.
The company said Thursday the three-week demonstration involved 40 different weapon scenarios and 700 live shots.
The U.S. Navy awarded Northrop a potential four-year, $376 million contract in September 2016  to produce and deliver nine G/ATOR radar systems to the Marine Corps.
The G/ATOR's ground weapon locating radar worked to track projectiles such as volley fire between 3.7 and 31 miles, during the test, the company noted.
Roshan Roeder, vice president of Northrop's mission solutions unit, said the GWLR mode is designed to detect and track threats, calculate an approximate impact point then monitor the threat's trajectory to estimate a firing position.
The company developed AN/TPS-80 G/ATOR to support short-range air defense, tactical air operations control, counterfire target acquisition and future air traffic control missions.