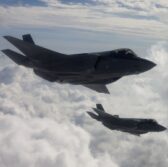 BAE Systems has ordered $51 million in microelectronic technologies from Cobham for the F-35 Lightning II aircraft's radar and electronic warfare systems.
Cobham said Monday that its microelectronic, motion control, microwave, cryptography, aerial refueling and pilot survival products are integrated into F-35s of U.S. and international defense customers.
F-35 prime contractor Lockheed Martin showcased an F-35 cockpit demonstrator during an event held Aug. 25 at a Cobham facility in San Diego.