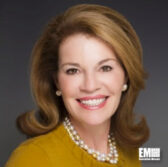 The National Institutes of Health has partnered with Amazon Web Services to help agency-backed researchers incorporate cloud-based technologies into biomedical research efforts.
AWS said Tuesday it will host various NIH data sets, such as those covered by privacy and security policies, as part of the Science and Technology Research Infrastructure for Discovery, Experimentation, and Sustainability initiative.
Teresa Carlson, vice president of Amazon Web Services' worldwide public sector business and a four-time Wash100 awardee, said the company intends to provide access to data that can help STRIDES researchers to further study and identify potential treatments for multiple diseases.
The company expects to include agency data in the Public Dataset Program, which offers cloud-optimized information on genomics, health and life sciences.
AWS added it will equip NIH researchers with computing, analytics and database tools to analyze genomic sequences, link molecular measurements to heart conditions and find cures to nearly fatal conditions, among other things.