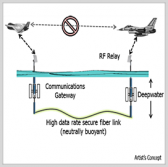 The Defense Advanced Research Projects Agency announced Wednesday plans for a sole-source purchase of a handheld Link 16 radio terminal from ViaSat in support of the agency's Tactical Undersea Network Architectures program, Military & Aerospace Electronics reported Thursday.
ViaSat's Battlefield Awareness & Targeting System-Dismounted AN/PRC-161 will be part of the second phase of DARPA's TUNA program meant to develop a temporary, 30-day undersea optical fiber backbone for radio frequency tactical data networks, the publication said.
DARPA awarded Oceaneering International a $19.3 million contract in March 2017 to develop and demonstrate designs for the TUNA program, the publication detailed.