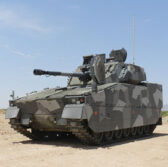 The U.S. Army looks to expedite the process for developing a prototype of the Next-Generation Combat Vehicle, Defense News reported Thursday.
Army Secretary Mark Esper told reporters Thursday that the service branch aims to accelerate various programs, including NGCV, to help address goals of the Defense Department's National Defense Strategy.
In September 2017, the Army awarded a potential $237 million contract to a team led by Science Applications International Corp. to build an experimental NGCV platform.
Defense News obtained fiscal year 2019 budget documents showing that the service branch wants to receive the first prototype vehicle within the first quarter of FY 2021.
The Army requested $119.4 million in fiscal 2019 funds for the NGCV program and estimated that the branch will spend $207.4 million during the vehicle prototyping and development phases through FY 2022.
NGCV could potentially replace the Army's Bradley Fighting Vehicles and Abrams tanks, the report noted.