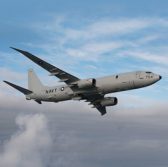 A five-member team from the Defense Contract Management Agency embarked on a more than 9,400-mile journey to deliver a Boeing-built P-8A Poseidon military aircraft to Australia's air force on Jan. 12, DCMA reported Wednesday.
The more than 24-hour flight marks DCMA's first direct foreign military aircraft delivery through the Poseidon program.
The DCMA Boeing Seattle team initially traveled to Hickam Air Force Base in Hawaii to take onboard six maintenance crew members from the Royal Australian Air Force.
The team and the six RAAF maintainers arrived at RAAF Base Edinburgh in Adelaide, Australia, after making its second stop at Andersen Air Force Base in Guam.
DCMA Boeing Seattle worked with the P-8 joint program office, Naval Air Systems Command, PMA-290 and the Australian project office team to conduct a three-month planning for the aircraft delivery mission.
The U.S. Navy uses P-8A Poseidon as a maritime, patrol and reconnaissance plane.
The aircraft also works to help warfighters perform anti-surface, anti-submarine warfare missions as well as intelligence, surveillance and reconnaissance operations.