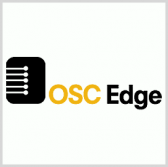 OSC Edge has won a potential six-year, $44.2 million contract from the U.S. Navy to provide information technology services to the National Defense University.
The Defense Department said Thursday the company will help manage an enterprise network that supports university IT users and students through the firm-fixed-price, indefinite-delivery/indefinite-quantity contract.
The Naval Supply Systems Command Fleet Logistics Center received 12 offers for the small business set-aside requirement via the Navy's Electronic Commerce Online portal.
DoD noted the service branch will initially obligate $500,000 in fiscal 2018Â operations and maintenance funds.
Work will occur through January 2023 in Washington, District of Columbia; Norfolk, Virginia; and Atlanta, Georgia.
OSC Edge provides IT integration, testing and management services that comply with Information Technology Infrastructure Library standards.