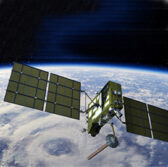 Orbital ATK has secured a contract from Intelsat to produce, test and launch a second commercial in-space servicing vehicle designed to extend the life of in-orbit satellites.
Orbital ATK said Thursday it will start providing satellite servicing support through the Mission Extension Vehicle 2 by mid-2020 under the contract.
The Dulles, Virginia-based aerospace and defense contractor"™s spacecraft components division will produce the propellant tanks, structures and solar arrays for MEV-2 through its facilities in California.
Orbital ATK"™s rendezvous, proximity operations and docking laboratory in Virginia will test the control algorithms, actuators and sensors that work to help the vehicle detect and move toward a client spacecraft.
The MEV-2 production contract supports Orbital ATK"™s plan to build a fleet of commercial servicing vehicles that will work to provide refueling, repair and assembly support to in-orbit satellites and meet other space logistics requirements.
Intelsat initially tapped Orbital ATK in April 2016 to develop and launch MEV-1.
"Work on MEV-1 is progressing rapidly toward a late 2018 launch with system-level testing beginning this spring," said Tom Wilson, president of Orbital ATK"™s Space Logistics subsidiary.
MEV-1 has a docking system and is based on the Orbital ATK-built GEOStar space vehicle platform.
Orbital ATK"™s Space Logistics received initial approval from the Federal Communications Commission in December to conduct in-orbit servicing work on the Intelsat-901 satellite through MEV-1.