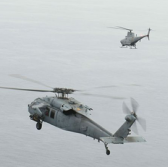 The U.S. Navy and Northrop Grumman have jointly demonstrated new functions and technologies of the MQ-8B and MQ-8C Fire Scout unmanned helicopters.
Northrop said Wednesday Fire Scout showcased its manned/unmanned teaming features through station-to-station hand offs of two Fire Scouts and the streaming of intelligence, surveillance, reconnaissance and targeting data to an Amphibious Readiness Group/Marine Expeditionary Unit.
The Navy has also begun to install an active electronically scanned array radar into MQ-8C to boost long-range strike capacity and optimize situational awareness in maritime and littoral environments.
"Today, operational squadrons are deployed and more are preparing to deploy to meet the expanding needs of the U.S. Navy," said Capt. Jeff Dodge, Fire Scout program manager at the Navy.
Fire Scout reached various milestones in 2017, including the deployment of MQ-8Bs aboard the USS Coronado littoral combat ship to support military exercises with 16 partner nations, and the first flight of MQ-8C from an LCS meant to demonstrate airworthiness.