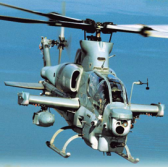 General Dynamics' ordnance and tactical systems unit has received a $9.1 million delivery order to manufacture helicopter gun turrets for the U.S. Marine Corps and the government of Pakistan.
The order is for 41 A/A49E-7 (V4) gun turrets for integration onto AH-1Z attack helicopters, the Defense Department said Thursday.
DoD noted the order comprises nearly $6 million purchase from Marine Corps and another $3.1 million purchase from Pakistan under the foreign military sales program.
General Dynamics OTS will perform work in Williston, Vermont and Saco, Maine through August 2021.
The Naval Air Systems Command is the contracting activity.