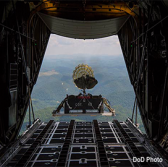 An industry team led by Boeing's Tapestry Solutions subsidiary has received a potential four-year, $26 million contract to update a software platform the U.S. Air Force  uses to plan airdrop missions.
Tapestry said Wednesday it will collaborate with Jacobs Engineering and Mission Oriented Rapid Solution Engineering to produce versions 6.x through 8.x. of the Air Force's Consolidated Airdrop Tool.
The team will also help the Air Force maintain fielded CAT software versions.
CAT is designed to help C-17 and C-130 transport aircraft crew manage airdrop systems that support delivery of military supplies in remote and austere locations.
Upgrades to the software will include an intuitive interface designed to accelerate airdrop tasks and automate inflight planning, Tapestry noted.
Robin Wright, president and CEO of Tapestry Solutions said the company aims to leverage its mission planning experience to update computing features on C-17 and C-130 planes.
CAT also integrates with the Army's Joint Precision Airdrop System equipped with global positioning system-based cargo parachute system that helps Air Force aircrew members deliver cargo to a single designated drop zone from any release point.
Aircrew members use laptops that run JPADS-CAT software to collect mission data they need to plan the route of flight, identify acceptable release points and execute cargo airdrop, Tapestry noted.
The Air Force awarded the delivery order under the Mission Planning Enterprise Contract II vehicle.