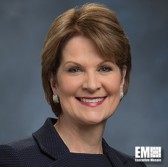 Lockheed Martin has partnered with Saudi Arabia-based King Abdullah University of Science and Technology to conduct research and development projects that will support the country's Saudi Vision 2030 objectives, Saudi Gazette reported Wednesday.
The master research agreement calls for the company and university to explore technology that will have potential applications across multiple industries.
Lockheed CEO Marillyn Hewson said the partnership aims to integrate R&D efforts and build platforms designed to help address complex problems worldwide.
Hewson added the company also seeks to help develop leaders of the future through collaboration with Saudi Arabia's government and KAUST.
Vision 2030 represents Saudi Arabia's national roadmap to drive economy and investment in the defense, education, health, infrastructure, recreation and tourism sectors.