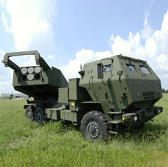 A consortium of Polish state-owned defense companies intends to start exclusive further negotiations with Lockheed Martin on the development of a mobile artillery missile launcher system for Poland's armed forces.
The Polish Armament Group selected Lockheed's High Mobility Artillery Rocket System offering as the basis of the country's Homar program, the company said Friday.
The program will look to modernize defense technology in Poland through technology transfer, in-country production and manufacturing and future modernization efforts.
HIMARS is a mobile launcher designed to fire multiple launch rocket systems and one tactical missile system at a range of up to 186 miles.
The platform can also be transported from C-130 aircraft and functions in areas that are previously inaccessible to heavier launch systems, according to Lockheed.