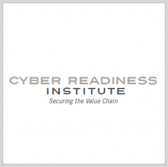 Microsoft CEO Satya Nadella, former IBM CEO Samuel Palmisano and other industry leaders from two nonprofit and nonpartisan organizations have launched an initiative that aims to advance cyber risk management in the private sector.
The Center for Global Enterprise and the Center for Responsible Enterprise And Trade formed the Cyber Readiness Institute to establish best practices and other content and tools that would help small and medium-size enterprises address cybersecurity risk across value chains, CRI said Wednesday.
"Our goal with the Cyber Readiness Institute is to foster more proactive involvement of the private sector in the development and promotion of global management best practices for cybersecurity," said Palmisano, who is currently chairman of CGE.
He and Nadella will co-chair CRI alongside Penny Pritzker, former Commerce Department secretary and chair of PSP Capital Partners, and Ajay Banga, president and CEO of Mastercard.
Kiersten Todt, former executive director of the Commission on Enhancing National Cybersecurity, will serve as the institute's managing director.
CRI added it will recruit more company leaders, subject matter experts and value chain representatives to attend sessions designed to identify cybersecurity risk management priorities and build on private sector recommendations indicated in a December 2016 report by the commission.