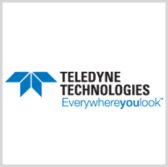 An Earth observation platform developed by a Teledyne Technologies subsidiary has been installed on the International Space Station to host imaging, technology demonstration and space qualification payloads.
The Multi-User System for Earth Sensing platform from Teledyne Brown Engineering launched with SpaceX's Falcon 9 rocket in early June and has completed an initial operational assessment at the space station, Teledyne said Tuesday.
MUSES, which orbits approximately 250 miles above Earth, is designed to support disaster response, maritime domain awareness, air quality, food security, oil and gas exploration, heritage prevention, fire detection, mining and atmospheric investigations.
Robert Mehrabian, chairman, president and CEO of Teledyne Technologies, said that the installation of the MUSES platform marks a key step toward the commercialization of ISS.
An ISS server works to buffer, store and transmit data from four MUSES payloads back to Teledyne's Payload Operation Center in Huntsville, Alabama.
Teledyne Brown Engineering developed the imaging platform through a cooperative agreement with NASA.