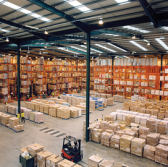 Lockwood Hills' federal business has received a potential five-year, $31.5 million contract from NASA to provide institutional logistics management services at the space agency's Ames Research Center in California.
NASA said Friday work covers equipment, fleet and supply management, warehousing and re-distribution, graphics, janitorial services, mail service center, property disposal, refuse and recyclable materials collection, removal and disposal, and reproduction services.
The contract also includes business operations and logistics options for the Ames Conference Center and documentation services for the research facility.
Herndon, Virginia-based Lockwood Hills holds an 8(a) certification from the Small Business Administration and offers logistics, administrative, aviation and protective services to federal government and military clients.