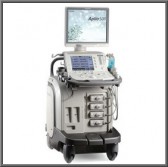 A Toshiba medical systems unit has received a Defense Department authorization to operate one of the company's ultrasound systems for the U.S. Air Force.
Toshiba America Medical Systems' Aplio Platinum series ultrasound system has met Air Force and Defense Health Agency guidelines for patient health information malware and malicious software protection, the company said Thursday.
Aplio Platinum systems contain Microsoft Windows 7 and application whitelisting security software programs in an effort to identify and prevent viruses and malicious solicitations.
"We understand that medical imaging safety goes beyond radiation dose and extends to other areas, including cyber threats where medical imaging technology could be targeted," said Satrajit Misra, vice president of marketing and strategic development at Toshiba.
Toshiba also holds ATOs from the Air Force for the company's CT, MR and cardiovascular X-ray systems.