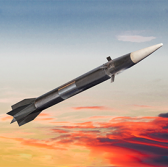 BAE Systems and Leonardo have formed a partnership to further develop a family of precision-guided munitions for a range of weapons systems designed to help U.S. and allied forces counter land, maritime and aerial threats.
The companies will work to adapt Leonardo's family of precision-guided projectiles – Vulcano – for use with BAE's Mk 45 naval gun and Advanced Gun System through the partnership, BAE said Wednesday.
Joe Senftle, vice president and general manager of weapon systems at BAE, said the company will leverage its experience in weapon systems integration to incorporate Vulcano into naval and ground-based gun platforms.
BAE and Leonardo will also integrate the projectiles with 155mm land-based artillery systems such as M109 and M777 howitzers.
The companies will also explore the development of infrared seeker, semi-active laser systems and other guidance and navigation tools designed to guide naval and ground weapons home in on moving targets across sea, land and air.