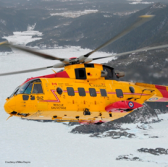 Three companies have joined Leonardo and IMP Aerospace & Defence as part of an industry team that aims to help modernize Canada's fleet of EH101/CH-149 Cormorant helicopters designed for search-and-rescue missions.
Team Cormorant is composed of Leonardo Helicopters, IMP, CAE and the Canadian businesses of Rockwell Collins and GE, Leonardo said Tuesday.
The industry team also intends to convert AW101-519 helicopters to expand the Royal Canadian Air Force's fleet of search-and-rescue aircraft through the Cormorant Mid-Life Upgrade and Conversion Program.
Daniele Romiti, managing director of Leonardo Helicopters, said the CMLU program aims to update the aircraft's avionics system to facilitate operations in all weather conditions and that the addition of Rockwell Collins, CAE and GE Canada would help expand the team's industrial footprint.
GE Canada will serve as original equipment manufacturer for Cormorant's T700-T6A1 engines and AW101-519 aircraft's CT7-8E engines.
CAE will provide training systems integration support services, while Rockwell Collins will offer its cockpit display platform for the CMLU program.
Leonardo Helicopters serves as OEM for AW101 and Cormorant helicopters and IMP is the principal contractor for in-service support as part of the industry team.