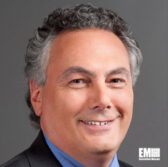 Tony Moraco, CEO of Science Applications International Corp., has said he believes SAIC is "well-positioned" to provide offerings in the areas of information assurance and enterprise information technology as federal government clients work to address cyber threats and leverage cloud platforms.
He told analysts Thursday at SAIC"™s earnings call for fiscal year 2017"™s fourth quarter that the company is also aligned to offer platform integration as well as training and simulation services to the military as service branches "expand the force structure" and update their systems.
Moraco, an inductee into Executive Mosaic"™s Wash100 for 2017, cited "headwinds" the company faces in its fiscal 2018 such as budget uncertainty at some federal civilian agencies and delays in contract awards driven by ongoing transitions in the Trump administration.
The company logged approximately $800 million in contracts during the fourth quarter that include a $254 million contract with the U.S. Army Aviation and Missile Command and a $73 million deal to continue to provide lifecycle IT support services to the Army Human Resources Command, he noted.
He said SAIC delivered 10 refurbished assault amphibious vehicle prototypes to the U.S. Marine Corps under the AAV program"™s initial phase and expects to enter the program"™s low-rate initial production phase in the fall of this year.
Moraco also mentioned that SAIC has handed over two of the 16 amphibious combat vehicle prototypes to the Marines and expects to finish the delivery of the remaining ACV prototypes by the end of the second quarter.
"While federal government macro level priorities are likely to shift somewhat, our long-term outlook remains the same with expected modest growth in our markets for the next few years, consistent with our long-term financial targets," he added.