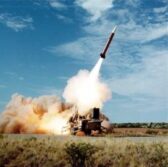 Poland aims to finalize a potential $7.5 billion deal by November to procure eight Raytheon-built Patriot air-and-missile defense system batteries from the U.S. government in support of the Polish government"™s Wisla program, Defense News reported Friday.
Jen Judson writes Poland filed a revised letter of request with the U.S. to facilitate the delivery of the first two Patriot AMD batteries with the Northrop Grumman-made Integrated Battle Command Systems by late 2019.
The Polish government has asked for the six other batteries to be equipped with a 360-degree Active Electronically Scanned Array, Gallium Nitride-based radar and expressed plans to have the country share at least 50 of the production work under the contract.
The country also announced plans to buy a small number of Lockheed Martin-built Patriot Advanced Capability-3 Missile Segment Enhanced missiles and a large number of SkyCeptor interceptor missiles that will be integrated by Raytheon with Poland"™s system.
The report noted that Poland-based state-run defense contractor PGZ signed separate agreements with Lockheed and Raytheon to collaborate on the development of an AMD system for the Wisla initiative.