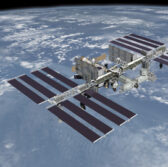 The SpaceX-built Dragon spacecraft launched Sunday morning from NASA's Kennedy Space Center in Florida aboard a Falcon 9 rocket to deliver 5,500 pounds of experiments, research equipment and supplies to the International Space Station as part of the company's 10th cargo resupply mission with the agency.
NASA said Sunday the CRS-10 mission represents the first commercial launch from KSC's Launch Complex 39A and will support more than 250 studies during Expeditions 50 and 51 on the space station.
SpaceX received a contract worth up to $700 million in February 2016 to conduct five additional flights under the Commercial Resupply Services program.
Equipment aboard the Dragon spacecraft include the Stratospheric Aerosol and Gas Experiment instrument that is designed to assess the levels of aerosols, nitrogen dioxide, levels of ozone and water vapor in the stratosphere and troposphere above Earth.
SAGE III will be installed outside of the station to make daily observations and will build on a 1979 experiment that developed a multi-decade record of measurements, NASA noted.
NASA's Shane Kimbrough and the European Space Agency's Thomas Pesquet will use the ISS' robotic arm to grab  the Dragon spacecraft upon its arrival to the station.
The space agency expects the vehicle to leave the space station with approximately 5,000 pounds of crew supplies, hardware and science equipment in March.