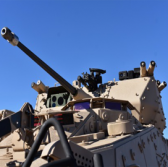 Orbital ATK has received international orders for Bushmaster cannons and medium-caliber ammunitions worth approximately $600 million over the last three months.
The company said Monday it expects delivery schedules for MK44 and M230 Bushmaster Chain Guns, target practice and tactical munitions and aftermarket support to run through 2020.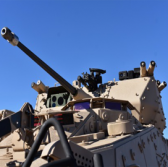 Mike Kahn, president of Orbital ATK's defense systems group, said the company has started to invest in the development of new ammunitions with precision guidance functions and expects the new rounds to enter the production phase later this year.
The Dulles, Virginia-based aerospace and defense contractor has begun development work on a full line of 40mm rounds presented at the firm's Bushmaster User Conference earlier this month.
The company's MK44 cannon is designed to home in on concrete walls, light-armored vehicles and other energy targets through the use of 30mm MK30 Programmable Air Bursting Munitions.
M230LF is a link-fed variant of the Apache helicopter's gun that can be integrated with weapons stations and light-tactical vehicles for both manned and remote missions and is designed to hit enemy targets through the use of ballistically-matched training munitions and High Explosive Dual Purpose rounds.