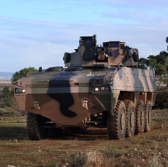 BAE Systems has chosen tooling and engineering company Marand to support an industry team that will compete in a program to modernize the Australian army's fleet of armored fighting vehicles.
Marand seeks to provide a range of engineering services and cross-sector expertise for the production of AMV35 vehicles that BAE and bid partner Patria offered to the Land 400  combat reconnaissance vehicle program in Australia, BAE said Thursday.
The BAE-Patria partnership was selected last year to participate in a 51-week risk mitigation activity under the second phase of the Land 400 initiative.
BAE noted it supplies Marand with titanium parts that are needed for the production of vertical tail fins for Australia's F-35 aircraft.