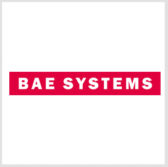 BAE Systems plans to add 80 additional cyber graduates to its workforce this year and collaborate with CyLon in a push to develop cyber capabilities in the British aerospace and defense company's supply chain.
BAE said Tuesday the move seeks to address future demand in cyber skills with the launch of the U.K. government's National Cyber Security Center.
The center will look to gather talent from the cybersecurity sector who will work to counter cyber threats and boost cyber resilience in the country amid a projected increase in attack frequency, severity and sophistication, the company added.
NCSC, which is part of the Government Communications Headquarters in the U.K. and was formally opened in February, has also teamed up with Lockheed Martin to lead the CyberFirst initiative that looks to develop the cybersecurity skills of students who are set to start university in a push to identify potential candidates who can fill the roles needed in cyber domains.
BAE noted that global research into cyber defense has predicted a rising number of cyber attacks in the next 12 months and found that 71 percent of 211 board-level executives and 984 information technology decision-makers believe cybersecurity is an organization's most significant business challenge.
The company said businesses should work to keep ahead of the changing threat landscape and bolster proactive threat identification over response.