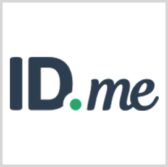 The Department of Veterans Affairs has implemented tools from small business ID.me in the agency"™s online portal designed to help veterans manage their healthcare and benefits electronically.
VA said Wednesday that Vets.gov has met the National Institute of Standards and Technology"™s Level of Assurance 3 standard for information assurance to provide additional features on a single site.
The site allows veterans to access healthcare services through a single account in order to check the status of their benefits claim, contact healthcare providers and order prescription refills online.
"To date, veterans have been required to visit a VA facility in-person to verify their identities before they were able to access valuable VA services online," said ID.me CEO Blake Hall.
Hall added that the website is designed to also help veterans verify their identity online.
Vets.gov features a multi-factor authentication process to validate a veteran"™s identity before VA shares personal information under LOA3 standards.