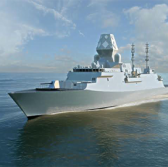 BAE Systems has chosen an additional six companies to manufacture equipment for the U.K. navy's first three Type 26 Global Combat Ships.
BAE said Tuesday it currently works with 33 other firms that include 15 maritime equipment suppliers on the shipbuilding program.
Rolls-Royce, Johnsons Controls, Marine Systems Technology, Salt Separation Services, Detegasa and MEP""Pellegrini Marine Equipments received the latest set of GCS manufacturing equipment contracts from BAE.
"The progress of our partners in the supply chain is a crucial aspect of making sure we are ready to cut steel on our first of class next summer," said Geoff Searle, director of the Type 26 Global Combat Ship program at BAE.
BAE said the amount of investments in the Type 26 supply chain has reached more than $480 million.
The U.K. government intends to procure eight anti-submarine warfare ships to support various missions such as high-intensity warfare and humanitarian assistance operations.
BAE's combat systems group is also contracted to provide shared infrastructure and electro-optical sensors control system to the GCS program.