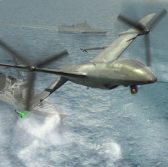 The Defense Advanced Research Projects Agency and the U.S. Navy's Office of Naval Research aim to commence ground-based and at-sea flight tests of a Northrop Grumman-built prototype unmanned air system in 2018 as part of the Tactically Exploited Reconnaissance Node program.
DARPA said Thursday its joint Tern project with ONR seeks to utilize forward-deployed small-deck ships such as destroyers and frigates as mobile launch and recovery sites for UAS.
Northrop was awarded an initial $93.1 million "other transaction" agreement in December 2015 to build a UAS demonstrator under the third phase of the Tern project and another $17.8 million OTA modification in June 2016 to develop a second demonstrator platform.
The program has completed the wing fabrication of UAS for small-deck ships, tests on a General Electric-made engine and software integration of simulation tools that will support rapid testing of aircraft control.
"We"™re making substantial progress toward our scheduled flight tests, with much of the hardware already fabricated and software development and integration in full swing," said Brad Tousley, director of DARPA's tactical technology office.
DARPA and ONR plan to test Tern's integrated propulsion system next year, then proceed with a series of ground and flight tests sometime in 2018.