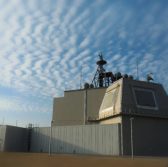 The first European Aegis Ashore site has begun scanning for potential ballistic missile threats in the skies of southern Europe.
The inauguration of the Aegis Ashore site at Deveselu air base in Romania — which utilizes Lockheed Martin's Aegis Combat System — completes phase two of the European Phased Adaptive Approach for allied ballistic missile defense, the company said Thursday.
Brendan Scanlon, director of Lockheed's Aegis Ashore programs, said the company will use lessons learned from the Aegis Ashore deployment in an effort to meet the requirements of the Missile Defense Agency, U.S. Navy and other allies.
The company currently develops a number of elements for the Poland Aegis Ashore weapon system, including SPY-1 radar arrays, for which MDA plans to award a contract for installation and testing activities.
Aegis Ashore is a land-based component of the Aegis Ballistic Missile Defense System that also consists of C4I systems and vertical launch systems, among others, and is supported by Aegis BMD Destroyers.
Construction begins Friday for the second Aegis Ashore European site in Poland, Lockheed noted.