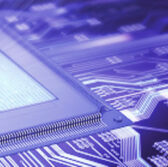 Spyrus will launch a new product line the company designed to incorporate what it calls "military strength cryptography" to the Internet of Things and related applications.
The company said Monday it will roll out a family of hardware, software, and supporting development kits that include the Rosetta microSDHC, a self-encrypting storage device with public key infrastructure functionality, and the Rosetta Micro, a security element in embedded surface mount package.
These products were designed with the capacity to serve as foundational authentication mechanisms for the IoT and other applications, the report said.
"With the launch of the updated family of Rosetta security products, Spyrus brings its extensive repertoire of PKI based authentication technologies to the ever growing ecosystem of mobile devices, Internet of Things, and wearable computing applications," said Tom Dickens, Spyrus' chief operating officer.
The report added that possible uses for the IoT include defense against cyberattacks, protection for sensitive content, machine-to-machine command and data storage, vehicle communications and intelligent monitoring systems.