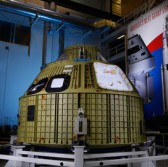 A team of Lockheed Martin and NASA engineers has placed a company-built Orion crew module on a "birdcage" assembly platform at the agency's Kennedy Space Center in Florida.
Lockheed said Wednesday the 2,700-pound module for the Exploration Mission-1 will undergo proof-pressure and structural tests at the facility before engineers integrate it with other components of the Orion spacecraft.
The module was transported to the Kennedy Space Center Monday from the Michoud Assembly Facility in Louisiana via a Super Guppy aircraft.
Mike Hawes, a vice president and Orion program manager at Lockheed, said the structure is approximately 500 pounds lighter than the module used during the spacecraft's Exploration Flight Test-1, which took place in late 2014.
"Once the final structural components such as longerons, bolts and brackets are added, total crew module structural weight savings from EFT-1 to EM-1 will total 700 pounds," he added.
NASA plans to send the spacecraft into lunar distant retrograde orbit with the Boeing-built Space Launch System.