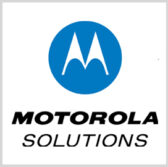 Motorola Solutions has been selected to provide user services for the U.K. government"™s new public safety communications system.
The company will also work to integrate the Emergency Services Network and to deliver system functionality, Motorola said Thursday.
"We share ESN's commitment and vision to equipping emergency and public service agencies with the functionality and capabilities that a broadband-based network can offer," said Manuel Torres, senior vice president of Europe and North Africa sales and support services.
The 4G LTE communications system is designed for users to share photos and video through voice and broadband data services.
More than 300,000 emergency and public service users at several U.K. government agencies will use the network when completed, Motorola said.