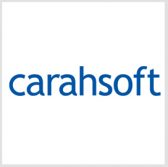 Carahsoft Technology has announced the availability of Dell EMC-built data protection tools to government agencies through the General Services Administration's Information Technology Schedule 70 contract.
The tools are listed on the contract's 132-44 special item number that covers continuous diagnostics and mitigation offerings designed to support the Department of Homeland Security's CDM program for federal, state, local, regional and tribal agencies, Carahsoft said Wednesday.
"As federal agencies modernize, cybersecurity continues to be a top concern across government IT teams," said  Maryam Emdadi Smith, vice president of the Dell EMC solutions team at Carahsoft.
Smith added that Carahsoft's offerings are designed to help CDM program participants manage their cyber postures and share intelligence data.
Dell EMC developed its product suite for enterprise users to secure data in more than 1 million devices across multiple IT environments such as desktop and laptop computers, data centers and cloud computing systems.
The portfolio completed a DHS product qualification process meant to evaluate products against Approved Product List requirements.