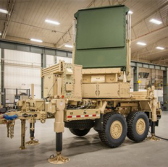 Lockheed Martin has received a contract from a Defense Department consortium to perform technology maturation work on its radar prototype as part of the U.S. Army's Lower Tier Air & Missile Defense Sensor program.
Mark Mekker, director of next generation radar systems at Lockheed, said in a statement published Thursday the company will leverage its experience in sensor development and Active Electronically Scanned Array technology to support the LTAMDS program's requirements under the contract awarded by the Department of Defense Ordnance Technology Consortium.
Lockheed plans to further develop its AESA Radar for Engagement and Surveillance prototype through the integration of a 360-degree rotational capability, gallium nitride transmitter and other signal processing functions.
The LTAMDS program seeks to replace the service branch's Patriot MPQ-65 radar system.