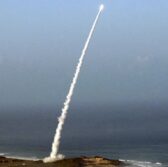 Lockheed Martin has awarded ViaSat a contract of an undisclosed value to provide L-band data link communications technology for the integration and testing phase of the U.S. Navy's Long Range Anti-Ship Missile program.
ViaSat said Wednesday it will deliver Weapon Data Link L-Band units and provide software enhancement and flight test support services under the follow-on contract.
LRASM is a key element of the Navy's Offensive Anti-Surface Warfare initiative and designed to help the service branch defend against adversarial warships.
ViaSat said its data link will function to connect the LRASM weapon system connect with launch platforms.
Ken Peterman, president of ViaSat's government systems business, said the company uses technology from its Battlefield Awareness and Targeting System portfolio to support customers in the weapon data link market.
The company also seeks to introduce the LRASM platform in the marketplace over the next 12 to 18 months.