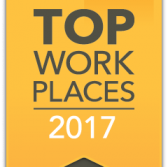 Knight Point Systems received a "2017 Top Workplaces" award from The Washington Post.
Based on the results of an employee feedback survey administered by WorkplaceDynamics, LLC, the award recognizes firms that lead in workplace culture, organizational health and workplace improvement.
"Knight Point Systems being named a Top Workplace by the Washington Post for the fourth consecutive year is an honor and it lets us know that we are continuing in the right direction. Our goal is to provide innovative products and services to our customers. To do that, we have to have a foundation of devoted, hardworking employees. We know that our employees are the reason that we are able to deliver, so we're always looking to find ways to recognize their commitment," said Knight Point Systems CEO, Bob Eisiminger.
Knight Point Systems (KPS) addresses the IT and infrastructure challenges faced by federal government agencies, providing a wide spectrum of IT management, technology, and service solutions.