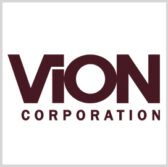 ViON has won a potential seven-year, $50 million contract from the U.S. Navy to provide on-demand, on-premise computing, networking and storage services in support of the Space and Naval Warfare Systems Command.
The Defense Department said Thursday the contract has a five-year base value of $34.8 million and covers support for multiple systems applications for SPAWAR's research, development, testing and evaluation core infrastructures as well as laboratory and data center environments.
ViON will provide capacity-as-a-service support to SPAWAR Headquarters, SPAWAR System Center Pacific and SPAWAR System Center Atlantic under the contract.
The company will perform work in Charleston, South Carolina; San Diego, California; New Orleans, Louisiana; and Norfolk.
DoD said work could extend through March 2024 if the service branch exercises all contract options.
SPAWAR competitively procured the contract through the FedBizOpps website and will obligate $326,120 at the time of award from the Navy's working capital funds.