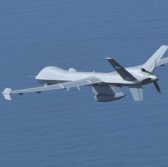 General Atomics' aeronautical systems business has partnered with a consortium of government, academic and commercial organizations to pursue operational approval in Japan for a medium-altitude long-endurance remotely piloted aircraft to fly in the country's non-segregated civil airspace.
The company said Thursday it aims to secure the first civil MALE RPA clearance in Japan as well as explore the potential use of the system in commercial and public operations.
GA-ASI also seeks to expand its Guardian RPA's mission capacity through the alliance.
"We believe that it"™s important to explore a framework that will allow the full potential of RPA efficacy on missions to be maximized so that it can contribute to humanitarian efforts such as disaster relief and border protection to support Japan"™s social priorities," said Nobuyuki Otsubo, GA-ASI director of strategic development.
The company noted in a briefing at the Japan Drone event that Guardian is designed to provide the kind of surveillance coverage Japan currently seeks in order to monitor exclusive economic zones as well as conduct search and rescue and immediate disaster relief missions.
General Atomics also looks to collaborate with multiple Japanese government agencies to demonstrate the firm's  RPA technology within the year.