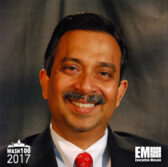 PV Puvvada, president of Unisys"™ federal systems business, has said he predicts federal employees and contractors to "proactively" evaluate risks in information technology projects under President Donald Trump"™s administration through implementation of DevOps and agile development processes.
Puvvada wrote in an FCW article published Friday that such a move is part of the administration"™s objective to deliver IT projects on budget and on schedule, which he says will serve as a metric to assess the federal government"™s acquisition process.
He noted that he expects the Defense Department and the National Security Agency to build up "offensive cyber capabilities" that will work to protect critical infrastructure, government data and political campaigns from state-sponsored threat actors.
Puvvada also predicts continued use of social media by the government, hiring freeze in civilian workforce and adoption of public-private models that seek to advance investments in infrastructure.